Enjoy a Scottish Western Isles cruise
Guests come on board Lord of the Glens to explore and enjoy Scotland's hidden treasures, meet new acquaintances and eat delicious food. Our Scottish Western Isles cruises are certainly never to be forgotten.
All our cabins are designed for maximum comfort and relaxation, the perfect place to end your active day and welcome each morning.
Book Now

James Watt Deck
The James Watt Deck is the lower deck housing four delightful category one cabins. From here you can watch the world go by in proper boating style with your own two portholes in your cabin. Interestingly, this deck is named after the illustrious Scottish engineer and inventor whose work with steam engines brought about huge changes to the world during the industrial revolution.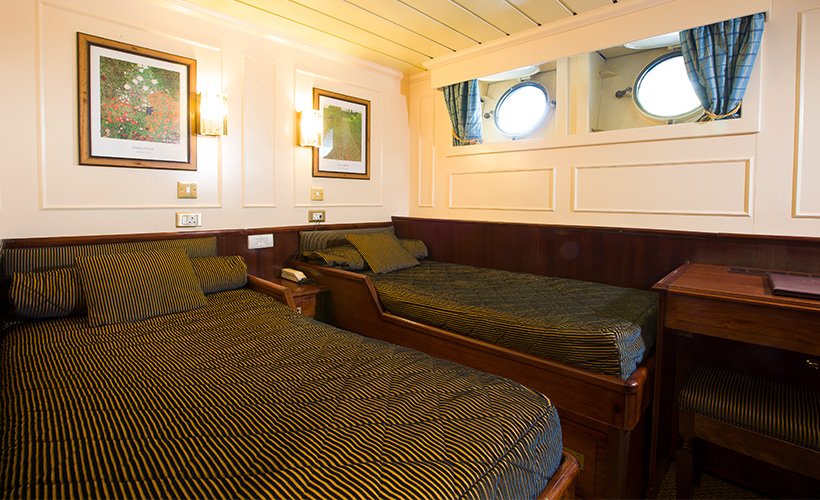 Category One Cabin
These cabins are located on the James Watt Deck which is two decks below the reception level. Cabins 103 and 105 are twin-bedded. Cabin 104 and 106 can be either double or twin-bedded. Each cabin has two large portholes to enjoy the views.  Each cabin has en-suite facilities (shower, toilet and washbasin) with eco-friendly Highland Company toiletries. Furthermore, there is plenty of storage space, a dressing table, a safe, a hairdryer, satellite TV, music system, telephone and individually controlled air conditioning and heating.
Individual Cabin Amenities
Request a call back

Open bridge
Lord of the Glens operates an 'open bridge' policy. When the Captain is not manoeuvering the vessel in the intricate locks and bends of the meandering canal, guests are welcome to visit the Bridge and chat to the mariners on duty.
Reviews...
The boat is so beautifully appointed. The staff are very organised. The staff are very efficient. The staff are very friendly. The staff are wonderful. The meals were spectacularly good, excellent in fact. Everywhere we went was familiar to 3 of us, having lived in Scotland for many years, so it was interesting to see everything from a different angle. Thank you to all involved with this beautiful boat.
See more
delightful decor...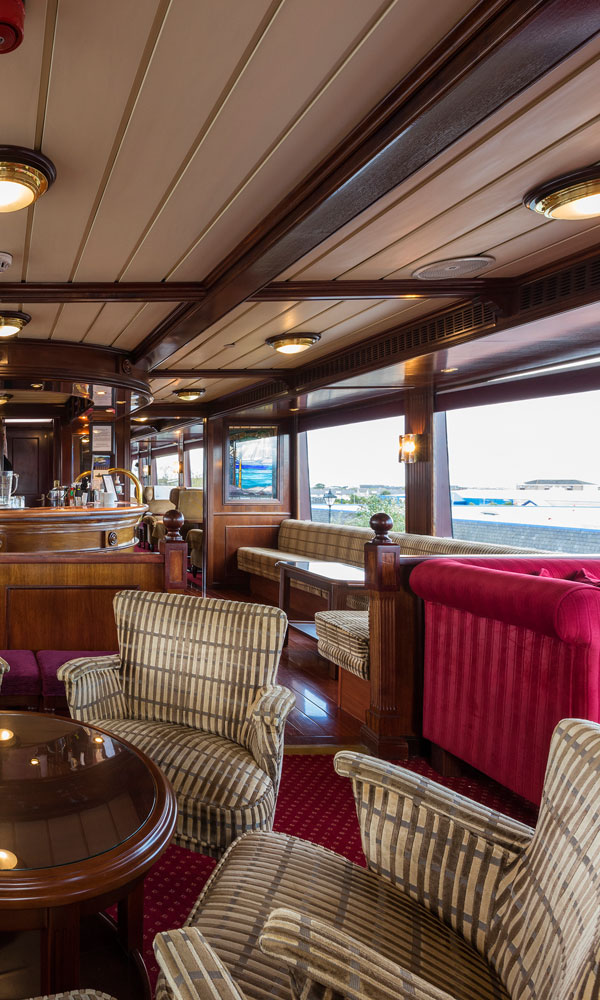 Style and class throughout
There are plenty of stylish decorations and touches all across Lord of the Glens. From features taken from liners of the past and luxury trains long-since decommissioned, this graceful ship has plenty of nods to its forebears. Additionally, you will find deck furniture from the RMS Windsor Castle and exquisite brass friezes from the RMS Kenya Castle.
inspiring journeys...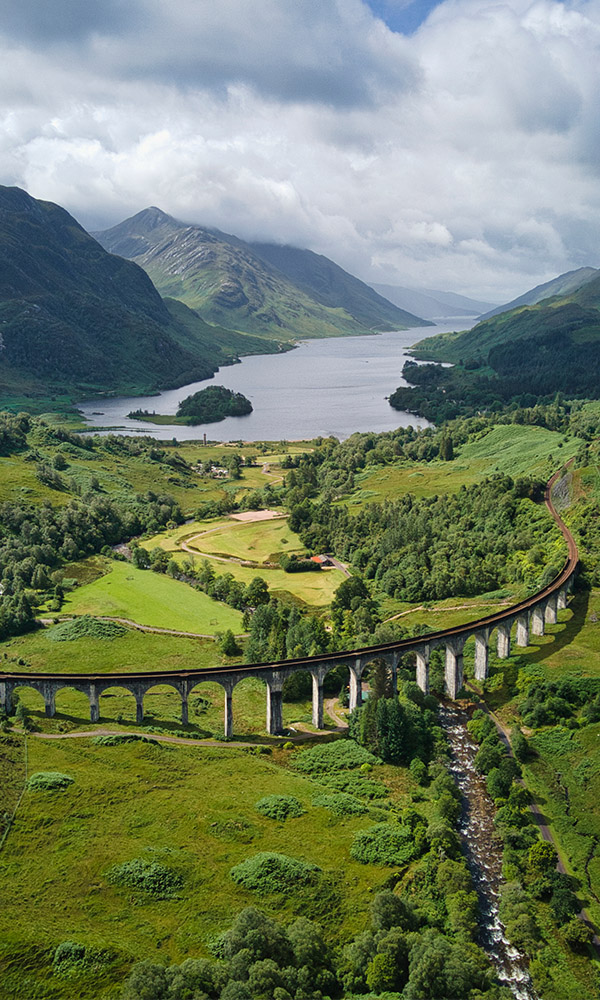 Inspiring journeys
Scotland seen on the big screen is often one of misty mountains and heather-clad hills. And it's regarded as a country of myth and legend – one where time has stood still.
Whilst this, of course, isn't true, there are still areas of the country where it's not hard to imagine a clan gathering or a Highland fling somewhere just beyond sight. As you will find out, some of the grandest sights of the Highlands can be seen on a Lord of the Glens cruise. These include the Glenfinnan Viaduct. A sweeping, majestic construction best known by many as the railway line towards Harry Potters School of Witchcraft and Wizardry, Hogwarts. With a cruise, there is also the opportunity to stop off and ride this line. It's an unforgettable journey.
Explore more decks and cabins below…

Exploring sites and Scottish history
Mysterious Loch Ness
There's no doubt that a cruise along Loch Ness has an eerie charm and beauty. At over 22 miles long, it gives plenty of time to enjoy the views – and maybe even do a bit of monster hunting too. Whilst the Loch Ness Monster isn't seen as much these days as it used to, there's always the chance it might pop up to say hello. But even if it doesn't, travelling down this long loch will be enjoyabel for any guest.
The Castles of Scotland
Throughout a Lord of the Glens voyage, there are always castles to be seen. From the stunning Urquhart Castle, perched on Loch Ness, to Armadale Castle and Gardens on Skye, each has its own story to tell.
Hundreds of years old, the castles have undergone rebuilding and renovation, either through choice or as a result of war and siege. Find out more about these buildings and the people who lived in them on our cruises around Scotland.
Travelling alone or in a group
All guests are made to feel welcome here on Lord of the Glens. We often enjoy the company of guests who are travelling alone, wishing to meet new people and take in the sights of Scotland's west coast. It's not long before those cruising alone are part of a larger group who thoroughly enjoy each other's company!
Finally, larger groups are also common here. It's a great way to meet up and enjoy being together. So no matter who you are with, a trip on Lord of the Glens will be a friendly holiday. From the James Watt deck right up to the viewing terraces, everyone is here for the same thing – a stunning trip through Scotland's beautiful Highlands and Islands.
Explore our holiday cruises to the Scottish islands.  Call us on 01756 704 740 to make your booking.