Fresh Scottish food every day
Meals on board Lord of the Glens are an invitation to dine among friends. The elegant Robert Louis Stevenson restaurant draws in the magnificent scenery through its all-round picture windows as guests enjoy breakfast, lunch and dinner. Sparkling crystal and fine china complement the excellent cuisine which makes use of the bountiful local produce including fresh fish, meats and poultry.
Book Now
Request a call back

Restaurant
A sumptuous Scottish breakfast welcomes the day, and with plentiful options abound, can be as healthy or hearty as you choose. For early risers, tea and coffee are available. Lunch varies, depending on the day's activities, and our dedicated crew is ever-present to attend to your every need. In the evening, dinner is a full service, banquet-style, three course meal with coffee and petit fours. On the final gala evening, no cruise would be complete without a traditional recital of Robert Burns' Address to a Haggis!
Reviews...
The boat is so beautifully appointed. The staff are very organised. The staff are very efficient. The staff are very friendly. The staff are wonderful. The meals were spectacularly good, excellent in fact. Everywhere we went was familiar to 3 of us, having lived in Scotland for many years, so it was interesting to see everything from a different angle. Thank you to all involved with this beautiful boat.
See more
An invitation to dine among friends

Dining with an ever-changing view
Most of the usual dietary requests can be arrange with prior notification. If special diets are required, please let us know or call us on 01756 704740.
Finally, dress on board is generally smart casual, with perhaps a jacket worn for dinner. We do enjoy a little extra effort for Welcome and Farewell receptions. Black Tie is not necessary.

beautiful scenery...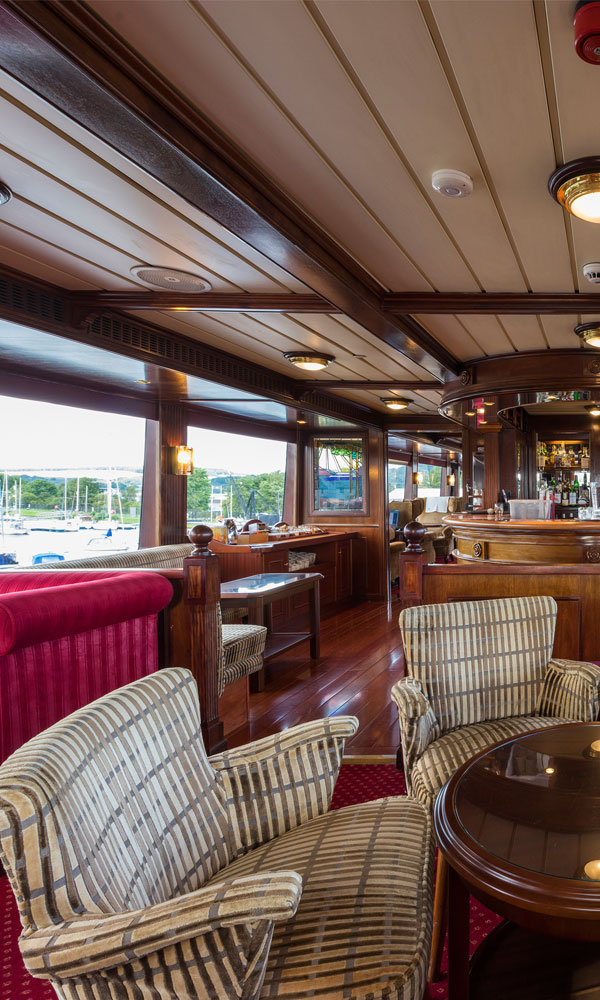 Bar and Lounge
The David Livingstone and Sir Walter Scott Bar and Lounge are located on Thomas Telford Deck and afford magnificent views of the surrounding scenery. They lead to the forward and aft viewing areas. Rich mahogany adorns the tables and bar with sofas lending a plush and colourful contrast. Seating is traditional including original 1929 'Riviera' armchairs from the legendary 'Cote d'Azur' Express. Light fittings are from the Nord Norge. There is a small dance and entertainment area where local artistes occasionally give performances or talks.


A place to relax
Enjoy to the full
Early risers may make use of the complimentary self-service hot beverages station. This is also available for your enjoyment throughout the day. All public rooms make excellent locations to meet and mingle or perhaps sit with a good book and a wee dram.
Copyright © 2022. Website powered by
|
poshagency.com
We use cookies on our website to give you the most relevant experience by remembering your preferences and repeat visits. By clicking "Accept All", you consent to the use of ALL the cookies. However, you may visit "Cookie Settings" to provide a controlled consent.
Privacy Overview
This website uses cookies to improve your experience while you navigate through the website. Out of these, the cookies that are categorized as necessary are stored on your browser as they are essential for the working of basic functionalities of the website. We also use third-party cookies that help us analyze and understand how you use this website. These cookies will be stored in your browser only with your consent. You also have the option to opt-out of these cookies. But opting out of some of these cookies may affect your browsing experience.